For one of the reasons for the project to be successful, it is very important that, Project team understands Project objectives and goals defined in Project Charter document based on Business case document, which in turn gets translated into the project plan describing 'How' you'll get there. A project charter document describes a project to create a shared understanding of its goals, objectives and resource requirements before the project is scoped out in detail.
Some of the contents of Project Charter –
Project goal/s

Project participants

Stakeholders

Requirements – This identifies the resources required for the project's objectives to be achieved

Constraints

Implementation milestones

Communication

Deliverables

Create an implementation plan
Element or line item 1 and 8 are very important to be known to the Project team. 
Goals and objectives are different. However, setting goals and objectives early in the project life cycle will always help of increasing probability of project success. Establishing Key Progress Indicators meaning objectives to be achieved will act as a "road map" for a project team. Failure to do so can derail the project.
Let us look in detail meaning of Project Goal and Project Objectives –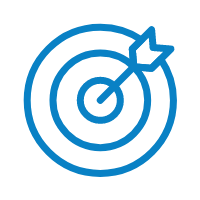 Project Goal/s
A goal is an achievable outcome that is broad and long-term. A project can have multiple high-level goals. E.g. Excellence in Service Delivery further divided into Grow sales for the next five years, Increase product efficiency
Project Objectives 
Once a core goal is set, setting business objectives is the next step towards nurturing a clear understanding of 'how' to reach the desired outcome. The main difference between objectives and goals is that objectives are precise actions or measurable [quantified] steps individuals and groups take to move closer to the goal. They are specific targets [quantified] that typically have a time-bound schedule [Project Plan] or timeline for completion.
Taking the example of Excellence in Service Delivery as the goal set, translating into objectives will be –
Achieving Customer Satisfaction aka CSAT of 4 in Q1 and 5 in Q2 on the scale of 1-5 

Grow sales for the next five years – Y-O-Y – 10% increase 

Increase product efficiency – In terms of delivery schedule, defect leakage, Number of maintenance releases per year [service packs] 
These objectives are the OKRs (objectives and key results) to help achieve the goals. 
Project objectives need to SMART – Specific, Measurable, Achievable, Realistic & Time Bound. A project objective should be a brief, one-sentence statement that includes actionable, measurable goals.
Project objectives are limited to a project and guide project managers and team members to achieve them to complete the project successfully. On the other hand, business objectives have a larger view or wider scope.  They are much bigger than the project objectives. Therefore, project objectives should align with the business objectives. 
Integrating with Agile-Scrum 
In Todays' world of Agile development or iterative releases, the goal of excellence in Service delivery translated into objectives is further translated into what we call – Product Backlog, Release Backlog, Sprint Backlog with needs/requirements mapped to objectives in form of EPIC, User stories and Tasks & same needs/requirements gets tracked through daily stand-up & Sprint Reviews [Show & Tell] and improvements gets initiated through Sprint Retro. This whole journey gets embedded into Project Management Life Cycle what is known as IPECC.   
Summary  
Project objective/s should be SMART. A well-defined objective/s helps complete the project with minimal hassle by providing clear expectations for stakeholders. In addition, project objectives motivate team members, provide clarity, and align their effort with the organizational goals. 
Thus it is imperative that, team members understands project needs, requirements, objectives & goals of the project.